TracStar X240V 2.4 米 x 波段天线

2.4M X-band Antenna is a rugged, reliable antenna system that will operate in the X-band Antenna System with 7.90 - 8.4GHz Transmit and 7.25 - 7.75GHz Receive. System Includes Reflector, sub-reflector, Az/El mount, OMT, feed and Supports. This system has high efficiency and at the same time successfully withstands the effects of the environment.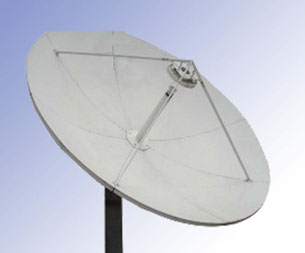 2.4 米 x 波段天线
穿透或非穿透安装
拉伸成型铝反射板;
防锈;
出厂前组装和测试系统;
配件立柱热浸镀锌结构钢
接受客户定制。
2.4m X band antenna
Penetrating or Non-penetrating Mount
Self-aligning, Stretch-formed aluminum reflector panel;
Reliable structure and well in anti-rust;
Assembled and tested feed system before leaving factory;
Hot-dip Galvanized structural steel
Responsive customer service support.
技术
---
SPECIFICATIONS

2.4M X-band Antenna System

Electrical Performance

Antenna Size

RX

TX

Frequency(GHz)

Rx: 7.25 -7.75GHz

Tx: 7.90 - 8.40GHz

Antenna Gain at Midband, dBi

43.7dBi

44.6dBi

VSWR

1.3:1

1.3:1

Axial Ratio

1.13dB

1.0dB

Antenna Noise Temperature

20deg Elevation

30deg Elevation

38K

33K

29K

38K

33K

29K

Port to Port Isolation

20dB

20dB

Feed Insertion loss (dB)

LESS THAN 0.3

LESS THAN 0.3

Mechanical Specification

Antenna Type

Offset / Ring focus

Surface Accuracy(RMS)

Less than 0.35

Mount Type

Elevation over Azimuth

Antenna travel range

Azimuth

Elevation

0deg -360deg

5deg -90deg

Environmental Specification

Wind loading

Operational

Survival

80km/h

200km/h

Temperature

-40Deg.c to 60Deg.c

Rain

13mm per hour

Solar Radiation

360BTU/h/ft2